Beware of the Small Print

Why do Charcool branding irons cost more then those on other sites?
There are lots of branding irons available on the Internet but they are not all equal.
A BBQ branding iron has to have 3 critical elements to ensure you get maximum enjoyment and use:
readability
heat properties and
longevity.
Our 2cm, stainless steel letters are as big as Texas! Compare them with the puny, aluminium alloy efforts of some others.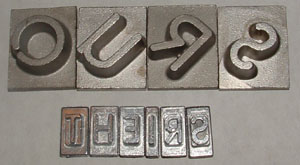 Sure the others offer you the whole alphabet but that won't help if you can't read what you branded.
Each Texas Iron letter is 6mm deep (twice the depth of some other brands) to leave a clear, readable impression and won't peel or break.
Our "Heatbacker" letters and the Branding Iron frame are made from Type 304 stainless steel, the material of choice for food processing applications. Not only is it corrosion resistant but it has superb heat qualities.
Our irons can be exposed directly to your BBQ heat source (flame or charcoal) so they heat faster, won't warp and retain their branding temperature for longer.
Don't be disappointed! Texas Irons have been making and backing these branding irons in the US since 1998 and they are stocked by reputable retailers like Wal-mart and K-mart.
If you have purchased an inferior branding iron and were disappointed, click here for a special offer.